How to create a project for a new job
OVERVIEW
Every contract you have will require a Payment Claim project to be set up. This article covers how to ensure you are creating projects and managing retentions the right way in PayLab. Then you can have a cup of tea and chill until claim time.
WHEN TO USE IT
Every time you have a new contract start, you should follow the below instructions to ensure your project is set up correctly to enable fast and accurate pay claims to be made. Ahh, so much saved time.
At any point through this process, you can hit Save via the button at the bottom of the screen. PayLab is also smart, it will also save items as you add them just in case you forget to do it.
Once you have saved and left setting up the New Project, you can locate it again by going to Projects via the top screen menu, and selecting Current Projects from the drop down (circled below).

HOW TO USE IT
In order to successfully complete creating a new project you will need several key details:
A unique Project Name
A Project Number
A Payee Reference (Your internal reference code or number)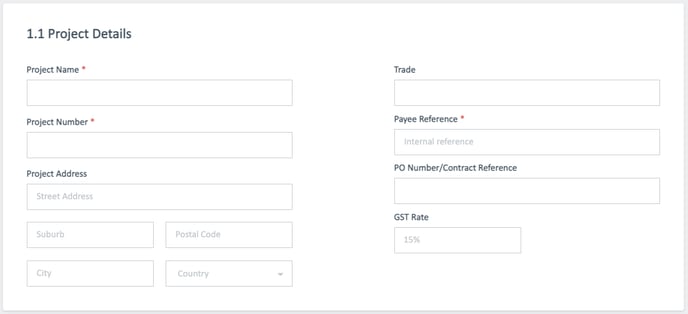 While it's not key for setting up a project initially, you will need the following which can be added at a later time:
A Project Address
A PO Number/Contract Reference
A Contact Name and Email address for the project or contract along with their company details and ideally their NZ Business Number
Information on when Pay Claims, Pay Certification and Payments are due each month
The Retention schedule
So let's get started!
CREATE A NEW PROJECT
From your Dashboard or your Projects page, on the top right, select the Create New Project button.

PROJECT DETAILS
Fill in each of the fields as appropriate. We recommend you use sequential Project numbers as it is likely you will have more each month.
The fields with the red stars are compulsory to fill in, however it's best practice to complete all fields as you go, otherwise you will just waste time having to come back and fill them in later. Also, the more details you complete here will help if and when you ever need to do a search of PayLab for that customer you've totally forgotten the name of.
In New Zealand, the standard Goods and Services Tax (GST) rate is 15%.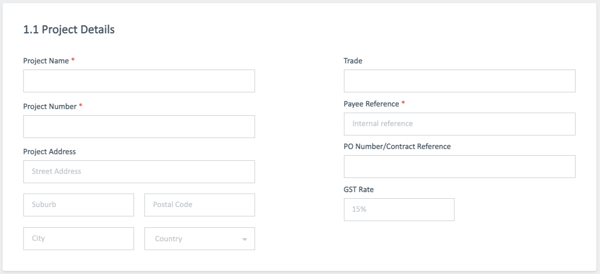 CLIENT/PAYER DETAILS
You don't have to set up Client/Payer Details now, but it will be required for sending the Payment Claim out, so we recommend doing it now.
First select the tick box to choose between creating a new Payer Company, or using one you have already created previously - these can be found via the menu at the top of the screen under Contacts.
Use the drop down menu or just start typing to select an existing Client to save you time.
You can also do this for the main contact point within your client's organisation.
You will also need your Client's company's Business Number to ensure it's the entity. Here is a link to the New Zealand Business Number (NZBN) government website, or the Australian Business Register (ABN) should you need them.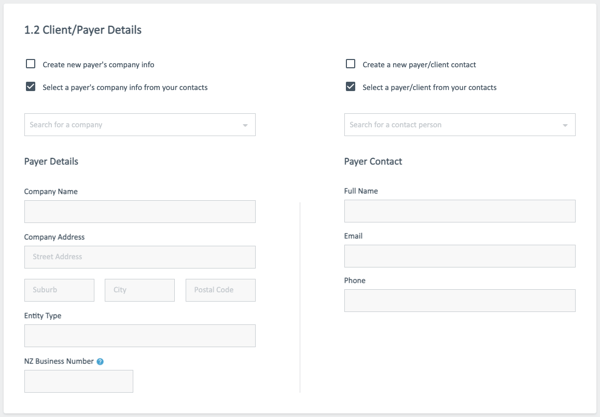 ACCOUNT CONTRACT
This is where you enter your details, or the main point of contact within your organisation for that particular project or contract.
This name will be retained within the drop down menu (select the downward facing triangle) so next time you come to this section, all the details are already there for you.
PAYMENTS
Section 1.4 requires information that is likely to be on the contract you have received from your Client. Choose the appropriate number of days for each field.
Working days exclude Saturday and Sunday (despite the fact we know you probably work at least one of those days anyway).
Pay Claim Due At PayLab we recommend you setting the Pay Claim Due day to be the 25th day of the claim month at the latest. This will enable you enough time to investigate the project claim and submit it to your Client in time for month-end.
Pay Cert Due This will change depending on the terms you have agreed with the Payer. The default provisions in the Construction Contracts Act 2002 in New Zealand say this must be no later than the 20th day of the following month after submitting your Payment Claim.
Payment Due Again this could change according to your agreed terms, however the default provisions in the applicable act say this must be no later than the 20th day of the following month after submitting your Payment Claim.

RETENTIONS
Retentions is always a complicated beastie, this is where PayLab makes it simple for you!
If you don't have Retentions on this project, you can just leave it as is and move on to the next section, otherwise, this is what you should see when you select Retention from the field below Retention Schedule.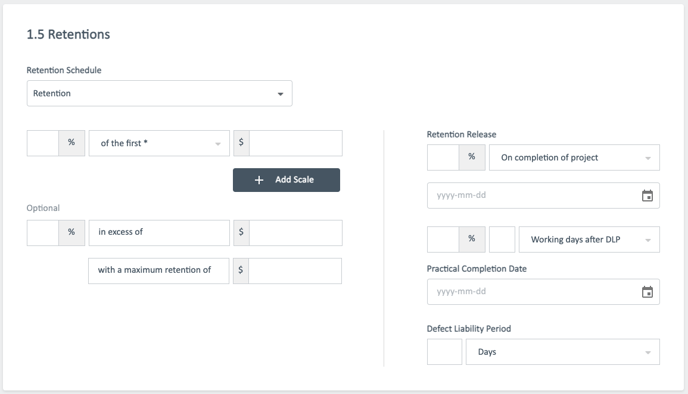 Retentions often vary according to the percentages of the job completed. By selecting the button + Add Scale you will be able to break this down into any additional levels you may have.
Working days after DLP stands for Working days after Defects Liability Period.
NOTES/COMMENTS
Feel free to add any notes or comments you might need in here. The Internal Notes will only feature within PayLab.
External Notes will be included in the Pay Claim when you send it to your Client.
Hit Save or Next > if you have the information to set up the Base Contract.
Once you have progressed through the progression bar at the top of this page (you automatically move along it after completing each stage), you will arrive at the Review & Complete screen.
Once you have ensured all the details are correct, you can click the green Submit button to move this from a Draft Project to a Current Project and begin making Claims.
In our Creating New Projects series, go to the next article - Setting Up A Base Contract