View high resolution overhead images of your Site to compare progress, check assets and site access routes in context.
Overview
The Map Viewer shows your site placed directly on a standard map or satellite view. This article highlights some of the key functions of the Map Viewer, including being able to view two images simultaneously to compare progress over time.
When to use it
The Map Viewer is the best way to see overall Site progress and it relates to the surrounding infrastructure and environment. Being high resolution, it enables vision of every detail.
Check physical access to your site, view on-site assets, demonstrate historical evidence of activity and more.
This imagery can be captured as part of a regular drone flyover and should ideally be undertaken every month when in the construction phase, and at least annually when in operate and manage.
How to use it
Choose from a selection of icon buttons on the right top corner of the application to navigate your way through the map.
| | | |
| --- | --- | --- |
| Upload GeoTIFF | | Select this to quickly upload your latest GeoTIFF. |
| Progress View | | View two images side-by-side to compare progress at different dates. |
| Progress View Unavailable | | If this is greyed out, you only have one image available, upload additional images to use the function. |
| Satellite View | | Switch from Map View to Satellite View to see your site in the surrounding environment. |
| Delete GeoTIFF | | Delete your GeoTIFF. |
The two date drop downs in the centre of each image can be used to select the image you want to view and compare.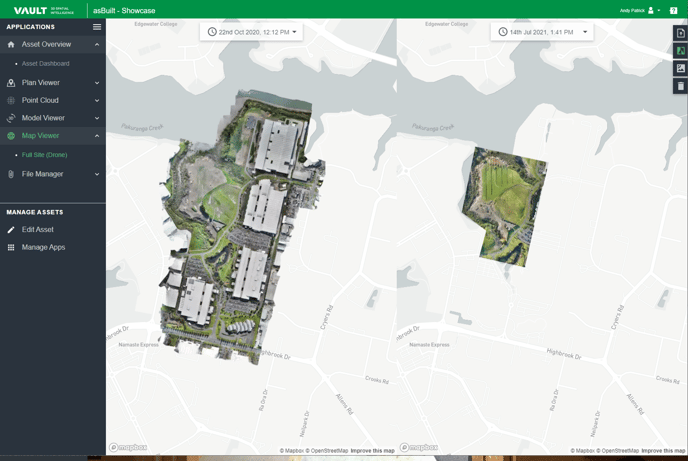 Download the Vault Quick Start Guide