How to view/edit subscription or add your credit card details to PayLab for subscriptions
Overview
PayLab will charge you monthly and all transactions will be made via Stripe, based on the subscription you selected.
When to use it
This article will help if you are not clear on the subscription process or unsure on how to input your credit card details.
How to use it
Once you have created your PayLab account you will need to select the plan that is suitable for your business, this can be changed at anytime in the future.
To view or edit your current plan go to Manage Account in the Top Menu.
In Plan & Payment section, if you see Choose a Plan button to means that you are currently on free trial mode and will need to upgrade your plan before you can create a project/contract.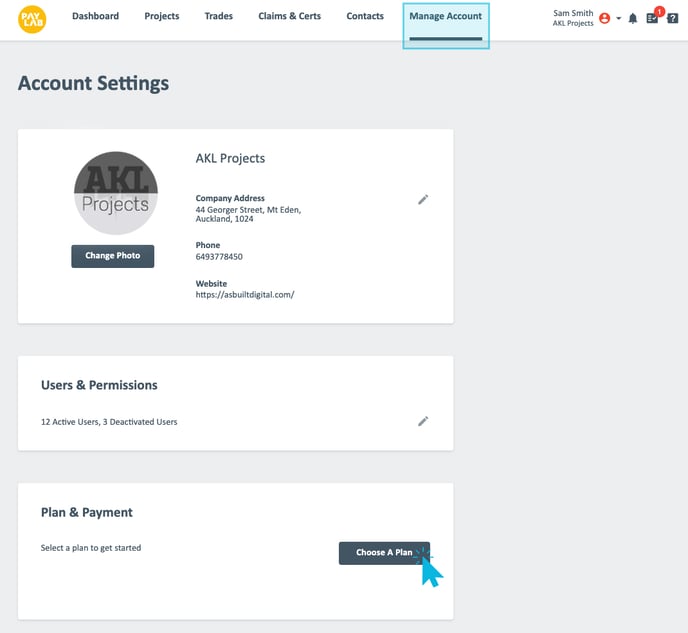 Click on the Choose a Plan to select which plan you wish to use, this will depend on how many projects you will be working on and whether you need to certify. There are three plan tiers to choose from:
Starter - One Project
Performer - Up to Five Projects
Premium - Unlimited Projects
If you use PayLab for certifying payment claims and you are managing more than 20 projects, you will need the Enterprise Plan, please contact us to get in touch with our sales team.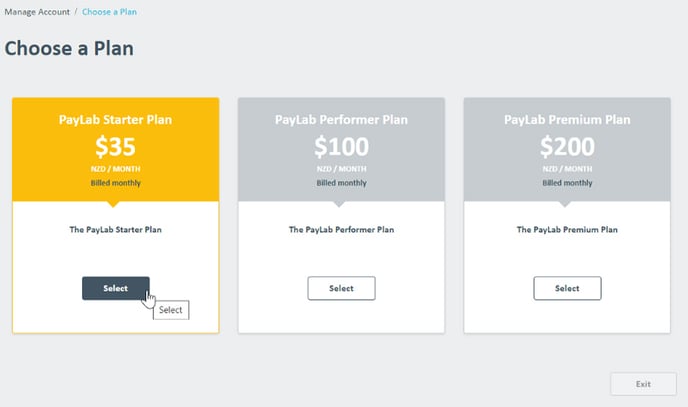 You will then be re-directed to the checkout which is hosted by Stripe. This is where you will enter in your email address and credit card details. Your credit card will be charged automatically every month on the day that you sign up for PayLab.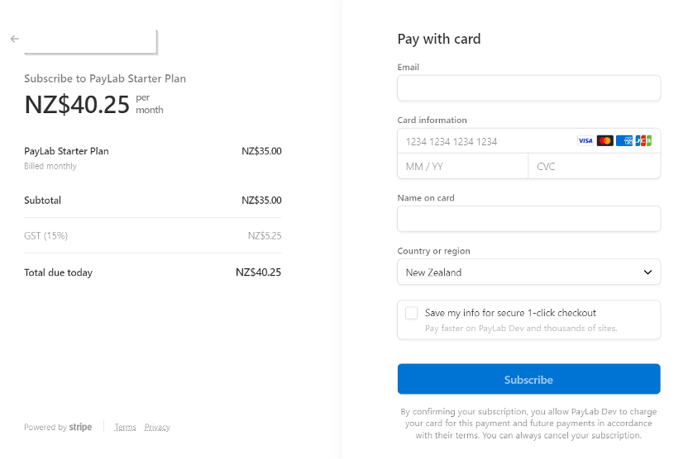 If you are already subscribed to a non-free trial mode plan, you will see details of your plan in this section.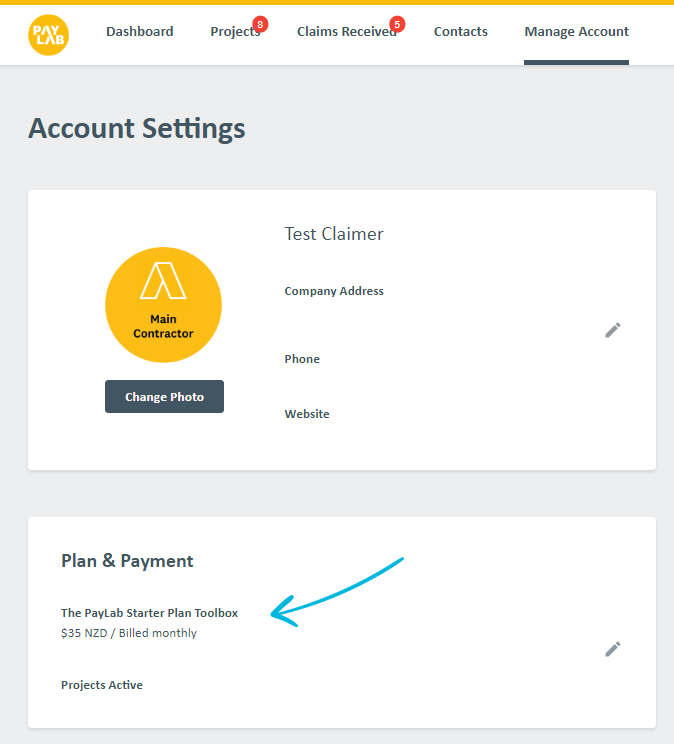 To view all subscriptions available, click on the pencil edit on the Plan & Payment box and click View Pricing. If you are on a non-free trial subscription it will highlight your current subscription.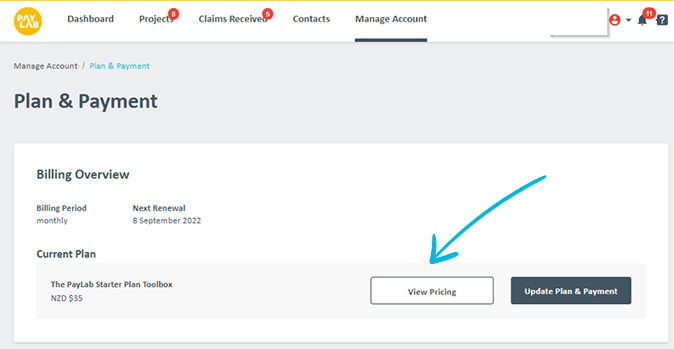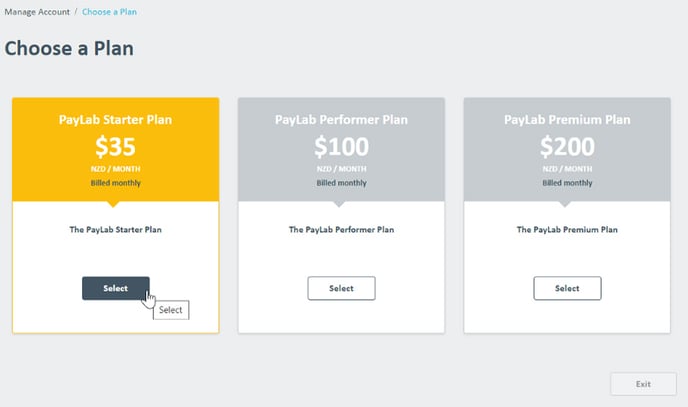 To change your subscription click Update Plan & Payment.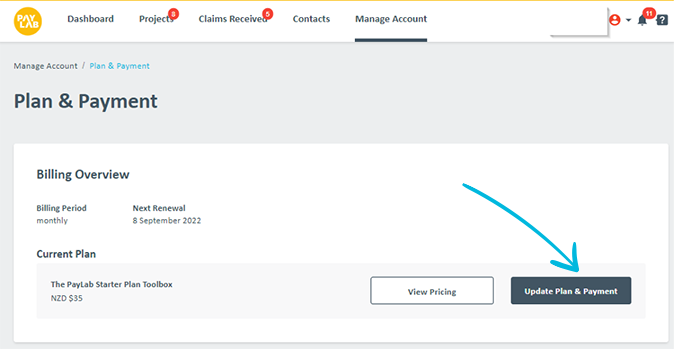 You will then be redirected to Stripe where you will be able to change or cancel your subscription.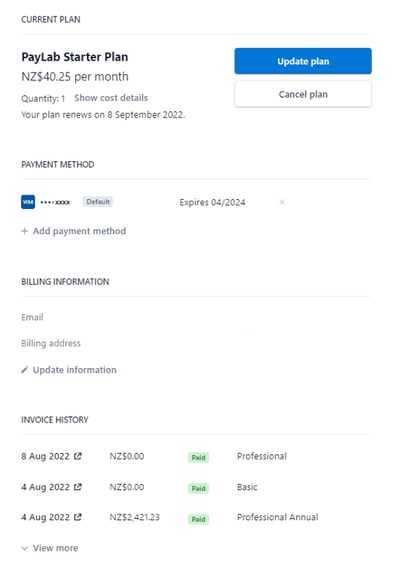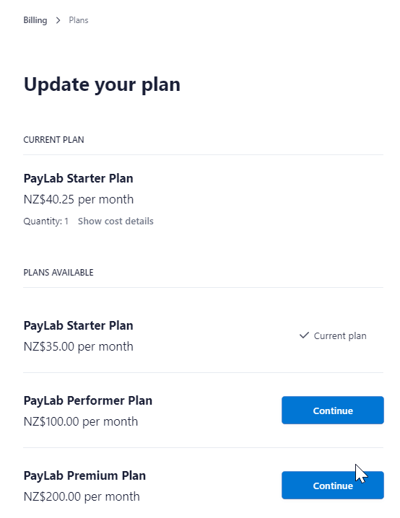 Every month you will be able to view and download you invoices on PayLab. Go to Manage Account the click the pencil icon for Plan & Payment. You will see all your monthly invoices under Billing History.